Section 179 and Bonus Depreciation Available for 2016 Purchases
Do not let the year slip by without taking advantage of special tax benefits on new and used equipment purchases. Both Section 179 and Bonus Depreciation have been approved for a limited time through December 31, 2016. In order to qualify for these tax breaks, you must purchase or finance your equipment by December 31, 2016.
Rig Source has a complete inventory of drill rigs and crawler carriers ready to start working on your next jobsite project. We offer sales on both new and used equipment in order to meet the needs and budget of every customer. Within our own shop, we specialize in servicing the industry leading, brand name equipment you've come to rely on, and even work direct with manufactures on special projects. Our dedicated sales team is knowledgeable in every type of drilling and can work with you to build a rig to suit.
Understanding The Benefits
2016 Deduction Limit = $500,000
This deduction is good on new and used drill rigs or crawler carriers, parts and other business assets.

2016 Spending Cap on Equipment Purchases = $2,000,000
This is the maximum amount that can be spent on equipment before the Section 179 Deduction available to your company begins to be reduced on a dollar for dollar basis.
2016 Bonus Depreciation = 50%
Bonus Depreciation is only available on new equipment, and is generally taken after the Section 179 Spending Cap is reached.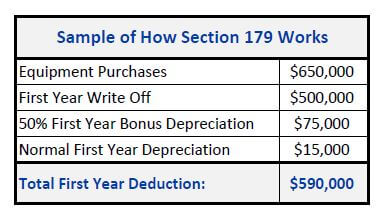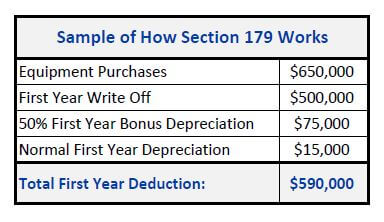 At a 35% tax rate, tax savings would be $206,500.00 ($590,000 x 35% tax rate)
For more information on equipment eligible for Section 179 or Bonus Depreciation tax credits, give Rig Source a call at 630.365.1649.
*For more information regarding the details of Section 179 and Bonus Depreciation, please contact your local government agency and tax advisers.