Rig Source is excited to announce the addition of Geoprobe sonic rigs to our sales offerings. Rotary sonic drills are ideal for geotechnical, environmental, geothermal and exploration projects, and deliver faster production rates, reduce waste, increase reliability and provide superior sample quality over conventional drilling methods. The first sonic rig available at Rig Source is a used Geoprobe 8140LC.
"We see the market moving towards sonic rigs and we're excited to add the used Geoprobe 8140LC so we can continue providing customers cutting-edge drills at affordable prices," states Matt Slater, Director of Sales at Rig Source.
Sonic drilling is a modernized advanced soil penetration technique that uses vibrations to reduce friction on the drill string. Vibrations both loosen surrounding soils and give sonic rigs the ability to cut through dense layers of rock.
Geoprobe 8140LC Sonic Rig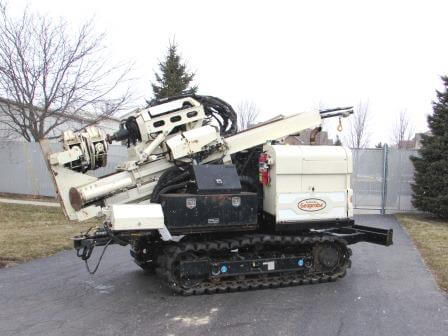 The used Geoprobe 8140LC for sale through Rig Source is a mid-sized sonic rig delivering full rotary capabilities and is equipped with an exclusive Geoprobe sonic head and 5 ft. stroke for low clearance access. The sonic head on the 8140LC model provides full rotation with an oscillator frequency of 0-130 Hz for enhanced drilling efficiency.  The swing arm control panel delivers variable speed controls affording operators the ability to adjust vibrations based on the ground conditions they're working in.
"You don't need to operate at full speed all the time. Once you find the sweet spot, the Geoprobe 8140LC cuts just like butter," confirms Chris West, Mechanic at Rig Source.
Featuring an Integrated Systems Display, the 8140LC delivers real-time system analysis and an assortment of diagnostic tools. "The computer diagnostics are incredible and simplify maintenance. Everything is right there on the screen and allows segmentation of hours on the head verses hours on the overall machine," adds West.
Service & Support
West is just one of Rig Source's mechanics that visited Geoprobe's headquarters last month to receive technical training on the 8140LC sonic rig.
"Training our mechanics on the technical aspects of sonic rigs was of utmost importance to us before extending sales to customers. Our service and support extends past equipment sales so training was imperative to confirm we could continue to provide that same level of service on sonic drills," states Slater.
Whether you're just starting to look into sonic rigs or already familiar them, Rig Source is excited to support your needs. For more information on Rig Source's Geoprobe 8140LC sonic rig, please contact a member of our sales team today at 630.365.1649.