Director of Sales, Matt Slater and myself have joined together to represent Team Rig Source during our participation in Tough Mudder Chicago that will take place in May. Tough Mudder has become a top fundraising source for Wounded Warrior Project, and we have fully committed ourselves to running the 11 miles with obstacles to reach our Team Rig Source goal of $1,000.00.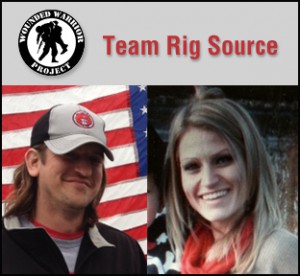 The Formation of Team Rig Source
Back in December, Matt and I decided to take our love of participating in local charity runs to the next level, fundraising! We thought there would be no better way to start the New Year than by helping others while doing what we love, and since we're both Rig Source employees, Team Rig Source seemed like a suitable name. 
We set our eyes on Tough Mudder for the cause it supports, the Wounded Warrior Project. Both of us have personal connections with U.S. military, and agreed that this was the organization we would be willing to go the extra mile for. That being said, Tough Mudder is the largest obstacle run either of us have completed, and we're excited to see how our combined fundraising efforts turn out.
A Snap Shot of Wounded Warrior Project
Wounded Warrior Project began in 2001 to support and help wounded soldiers through financial assistance, support services, and specific programs designed to meet the needs of injured service members. It is estimated that 48,000 men and woman have physical injuries, 400,000 suffer invisible injuries (depression, post-traumatic stress), and 320,000 have traumatic brain injuries. With increased medical technology, more service men and woman are surviving war injuries, and therefore there has been a greater need for support.
A Testimony to the Cause
Lance Corporal, Mike Goranson openly offers his testimony to the Wounded Warrior Project after becoming a member in 2004. Mike suffered from a gunshot wound from an AK-47 tracer round while deployed in Ar Ramadi, Iraq, and has since undergone six surgeries in an attempt to repair his leg. While Mike is thankful for his life, he survives with irreversible tibial nerve palsy from his injury along with horrific memories of escape.
 "Wounded Warrior Project gave me a lifeline that is always there for me. They gave me an outlet to become active again and also gave me the opportunity to surround myself with other veterans that have had the same experiences as me." –  Mike
You Can Help Team Rig Source
Team Rig Source would love to have your support in our quest to conquer the Tough Mudder, and reach our Wounded Warrior Project fundraising goal. You may make donations on our Team Rig Source fundraising page, join our team, cheer for us on race day, or simply spread the word. For additional information regarding Team Rig Source, call Matt at Rig Source Inc. – 630.365.1649!