The Simco 2800 drill rig is back from paint, and we opted to remain loyal to the original equipment manufacturer by keeping the drill rig white.
Over the last few weeks our shop team has been hard at work bringing this used drill rig back to "like new" standards. The end result has been nothing short of phenomenal,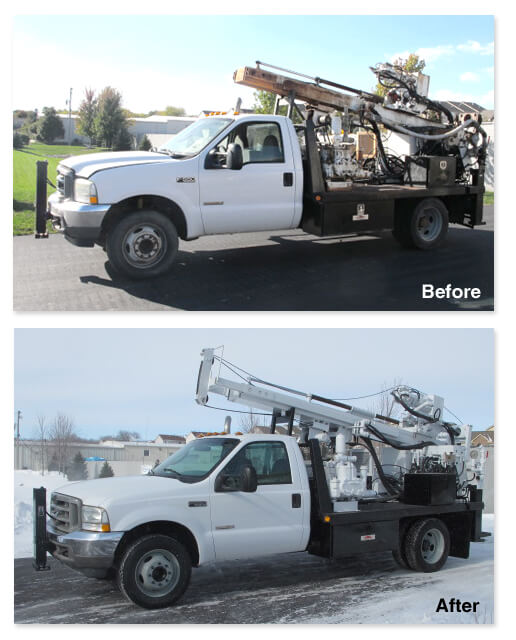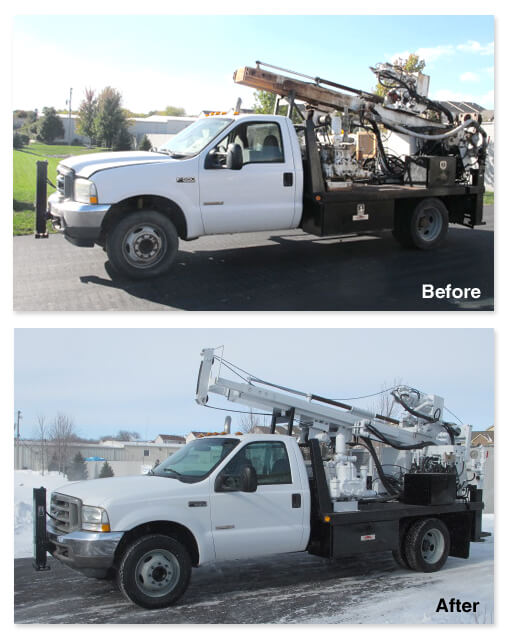 and we are extremely proud of our shop team for their amazing effort, excellent work, and overall skill.
Restorations Needed
This Simco 2800 drill rig came to us mounted on a Ford F-550 with a cracked windshield, torn up bench seat, burnt out engine module, a tear in the deck floor, a weak drill frame, and a great deal of maintenance repairs needed. Quite the laundry list if you ask me. However, our talented team got right to work. One step at a time they fixed every bit to bring this Simco 2800 drill rig back to life.
Obstacles Faced
It's not say we didn't encounter some troubles along the way, but our shop team did a great job managing their time while progress on the Simco 2800 drill rig was at a standstill. The team battled receiving incorrect parts, unexpected mechanical issues, the holiday bustle, and worse, the cold winter shop thanks to this extra special Chicago winter!
Simco 2800 Drill Rig for Sale
Now that the transformation is complete, we are offering the Simco 2800 to YOU! It's been built to last, refurbished by the best, and can be yours by calling 630.365.1649. You may also view the current Simco 2800 drill rig web listing on our website, along with other environmental and geotechnical drill rigs for sale.
To see the entire transformation process in detail view the previous blog posts:
Simco Drill Rig Transformation You Need to See to Believe
Simco Drill Rig Transformation: Starting Off with a Mess
Simco Drill Rig Transformation: Find Out What Halts Progress