Companies, Rig Source and Terramac® hosted their inaugural company picnic at Lions Park in Elburn, Illinois Saturday, September 7th. Employees and their families had the opportunity to come together for a fun filled sports day, dinner, games, raffles, prizes, and one competitive 16 inch softball game. All ages were invited to participate in the day's events, and we had an amazing turn out combined with great weather.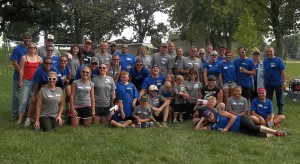 The younger children were fascinated with their water gun and kite giveaways, and the adults took turns testing out the custom made bag sets that were raffled off later in the day. Teen girls, Alicia, Sarah and Calee Luna quickly took over the volleyball court showing up some of our very own club league players while Team Terramac, led by Terramac® sales representative Bobby Dawson, took the softball game win with an overall score of 9-8.
A delicious buffet style dinner was served later in the evening followed by a generous raffle of prizes. Many guests walked away as winners of various gift cards, coolers, and bag sets in addition to goodie bags full of freebies. The picnic turned out to be a wonderful way for employees to get to know one another, and we are looking forward to making the picnic a company tradition for years to come.
For a complete photo album from the company picnic, "Like" us on Facebook!