Rig Source Inc. celebrates 10 years of providing service and support to drilling contractors and crawler carrier users worldwide.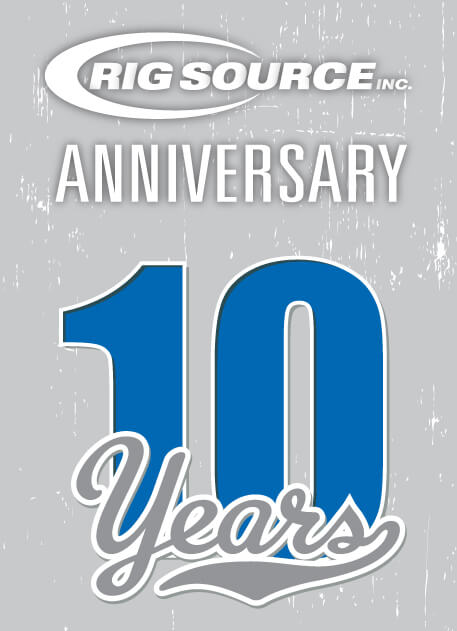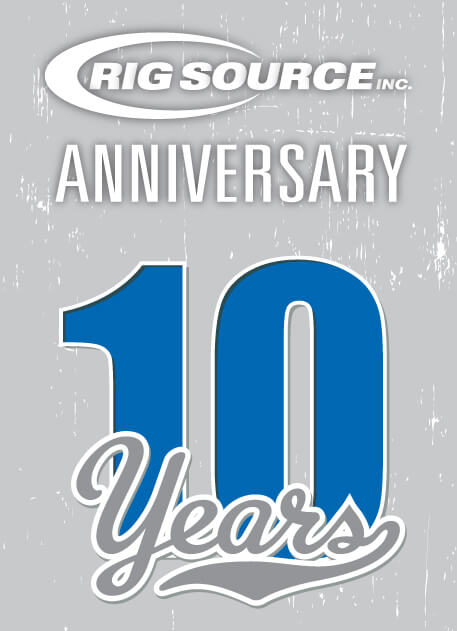 To say the least, it has been a wild ride as Rig Source progressed from a small drilling support company to becoming the international sales, rental and drilling support center many of you know today. The immeasurable amount of success that has come from, and continues to come from Rig Source has surprised even the owners, Mike and Lisa Crimaldi.
Dedication Delivers Rewards
I recently had the opportunity to interview President, Mike Crimaldi on the couple's accomplishments in the drilling industry over the last ten years, and it was truly an honor to hear his humble story. During the interview Mike had this to say,
"I have a great deal of loyalty to the drilling industry since it was not too long ago, that I myself was a driller. I knew this company wouldn't fail because I wouldn't let it, but I never realized it would go global. The fact that we've made it ten years gives me a great sense of pride that I have been able to maintain my loyalty to the industry and fulfill my role in providing drilling support to so many remarkable drilling contractors."
A Brilliant Idea is Developed from Personal Challenges
It was during Mike's years as a driller that he quickly discovered very little independent drilling support existed for drilling contractors, and considering the complexity of drilling equipment, he along with others in the drilling industry would have welcomed some added support outlets. The lack of drilling support that Mike experienced forced him to find his own solutions to the unwanted drill rig breakdowns that inevitably occur while on the job. In return, it was these experiences that eventually led to the development of Rig Source.
Rig Source started with simple service of drill rigs for the geotechnical and environmental drilling industry and over the course of time flourished into a number of other drilling markets. As customers came to Rig Source with problems, Rig Source provided a solution and added it to their list of offerings. One of the most successful solutions Rig Source established was providing customer's rental equipment while their units were out for repair. Rentals eliminated downtime for the drilling contractors and became the backbone for Rig Source.
Below is a snapshot of Rig Source's development and growth over the years.
2004 The Doors of Rig Source Inc. Open As A Sales, Service & Drilling Support Center for the Geotechnical & Environmental Drilling Industry
2007 Crawler Carriers & Tracked Drill Rig Remounts Become a Hot Commodity
2008 Expansion Into The Coring & Exploration Drill Rig Market
2009 The Good Ole' Boys Get Into Oil & Gas Drilling Industry
2013 Rig Source is the 1st Distributor of Customizable Terramac® Crawler Carriers
2014 Expanded Geotechnical & Environmental Rental Drill Rig Fleet
Work to Live While Loving Your Work
It is easy to chart the growth Rig Source has gained with sales, service and rentals, but what has really made this company successful lies within its culture. The Crimaldi's are unique business owners that encompass the desire to look beyond the bottom dollar in order to increase it. From their customers to employees the duo recognizes the importance of maintaining a balanced life that includes work. Rig Source strives to inspire their networks to utilize each other's skills and assets to effectively and efficiently support each other.
"Through our synergistic culture, our company has sustained higher quality employees and obtained more loyal customers than we could have ever imagined. They come to Rig Source because they're comfortable with us and want to be a part of our team. The type of camaraderie we've managed to uphold at Rig Source is to me, the largest part of what makes us successful." – Lisa Crimaldi
There is no doubt the Crimaldi's have reached success in the niche market of drilling, and what lies ahead is hard to measure. As long as drilling contractors need drilling support, Rig Source will be there to find solutions to do just that. With the creative and innovative minds of the Crimaldi's, and the willingness to grow, the sky is the limit!