Jim Davis from Froehling and Robertson purchased a CME 55 from Rig Source a few months back, and returned to purchase a second geotechnical drilling rig. This time around, Jim purchased a Diedrich D120 mounted on a Morooka MST 1500 crawler carrier. It was determined that Froehling and Robertson would benefit from having a geotechnical drilling rig mounted on a tracked crawler carrier in order to access areas where their current wheeled equipment simply could not reach. Completely satisfied with his first purchase, Jim Davis came right back to Rig Source, and as always Rig Source delivered. The Diedrich D120 geotechnical drill rig was rebuilt, sandblasted/painted to match the company and the following features were added based on customer request: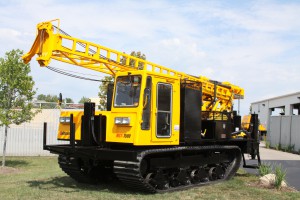 New Engine
New Auto Hammer
New Break Out Wrench
New Hoses and Wiring
New Water Tank
It is an honor to have loyal customers such as Jim Davis, and Rig Source is pleased to have been selected not once, but twice when Froehling and Robertson were in search of additional geotechnical drilling rigs for their fleet. Call or email Rig Source today for your geotechnical drill rig needs. We look forward to building more long lasting relationships with both new and existing customers.