Terramac®, RT9 carrier, Morooka, Morooka Buggy, IHI, and tracked carrier are all terms we commonly associate to mean the same thing, Rubber Track Crawler Carriers. If I had to define a rubber track crawler carrier, I would describe it an off road utility vehicle with continuous tracks, specifically made of rubber. I give my own definition because the term has never actually been defined in the dictionary; which is somewhat of an astonishing concept. We've clearly branded this specific type of vehicle, use it daily on job sites, and have even come up with shortened, unofficial names for them, but have never given them a definition.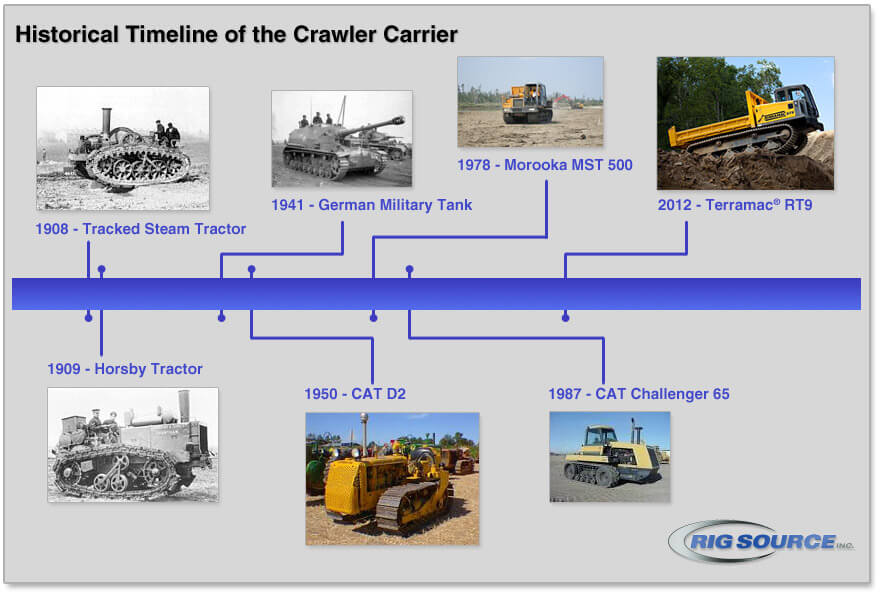 The creation of these rubber track crawler carriers has an extensive history filled with multiple transformations over the years, beginning with the continuous track itself. The actual originator of the continuous tracks is difficult to designate because there is a long line of patents dating back as far as 1770. The concept of continuous tracks caught the attention of inventors worldwide and each would adjust, tweak, and patent their own unique track laying mechanisms. One of particular interest to me was James B. Hill and his patented term, "apron traction" because he was working in Bowling Green, Ohio, home of my own Alma Mater at the time of his patent creation.
While a great deal of groundwork was laid by these inventors in previous centuries, none truly resemble the modern tracked carriers we use today. General use of these crawler carriers took off in the 20th century with increased use in agricultural, construction, and the military. At this time, most continuous tracks were made from steel, and all three industries learned that the large surface areas of the tracks allowed for a greater distribution of weight, making these vehicles less likely to get stuck in adverse ground conditions. Rubber tracks were finally introduced in 1913 when inventor, Adolphe Kègresse constructed and patented them. He discovered the rubber track to be lighter causing less environmental damage. Additionally, they were quieter and stronger which proved crucial for military combat situations.
Currently, companies like Rig Source Inc. rent and sell these rubber tracked crawler carrier units to construction, utility, and pipeline companies that work directly on job sites. These particular industries use them for many of the same uses as in the 1900's such as low ground pressure, ability to operate in rough terrain, and ability to carry heavy loads. Recently, Rig Source added a new line of crawler carriers manufactured by Terramac® LLC. Rig Source was introduced to the RT9 unit which is quickly becoming the most innovative rubber tracked crawler carrier on the market for its versatility in attachment features.
So how after all these years has the rubber tracked crawler carrier escaped a dictionary definition? It's obvious from the long line of historical data that these vehicles are of great importance, regularly receiving technological advancements, and making a known impact in society; so why not give them the official recognition deserved by a definition?