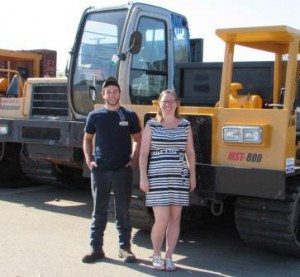 As Rig Source celebrates its 10th year in business, we continue to honor our employees as they each celebrate their own achievements and longevity at Rig Source. You may have already noticed a handful of employee recognitions go out, but the fun has just begun. We have six more months to go and many more fabulous employees to share with you. After all, without these wonderful employees, Rig Source would not be what it has become today.
This spring, Rig Source is honored to be celebrating anniversaries for both Grant Harbecke and Monica Coenen. Grant has been a team member for two years, and serves as a shop apprentice while Monica joined our team a year ago as the company's marketing manager. You almost wouldn't think these two have much in common, but the truth is they couldn't be more alike in the sense each goes above and beyond their assigned duties to enhance the overall workflow of the company.
Behind The Scenes Making Lasting Impressions
Grant came to us as an apprentice to learn the mechanical and welding trade and daily does just that. He is truly dedicated to his position and is an eager learner. Through his time as an apprentice he has become an asset to our shop team, and consistently offers his assistance to those around him. From prepping equipment to assisting with repairs to general building maintenance, Grant has proven to be a hard worker willing to climb the ladder.
Monica was a delight to welcome to our team right from the start as well. Coming from a background in marketing and graphic design to seeking out the challenge of learning a new industry with increased responsibility was a natural progression for her. During her time here she has managed to bring regularity to our marketing department, and enhance communication processes. Monica's strong character allows her to take on more one should, and yet she still presents the Rig Source team with fresh ideas regularly.
While neither one of these roles may be present to those on the drilling forefront, their friendly aura and willingness to conquer whatever lies ahead, does spread throughout the Rig Source workplace. It is because of employees like Monica and Grant that Rig Source as a whole maintains such an incredible work environment that even our customer's want to be around.
Above & Beyond
There is something to be said about going above and beyond in your workplace role. It gives you an advantage to move from just an employee to company asset, and here at Rig Source we are proud that Grant, Monica and the rest of the Rig Source staff take such great pride in our business that they choose to do just that. It is certainly something every customer should remember when searching for a crawler carrier and drill rig rental source – A personable, dependable and knowledgeable staff like ours at Rig Source!