If you're the owner or operator of a rubber track crawler carrier I'm sure you have wondered when the time is right to replace a machine's rubber tracks to keep it operating at its best. Below are some helpful tips to take the guesswork out of the process.
We all know to rotate the tires on our everyday wheeled vehicles on a regular basis and to replace them every 40-60k miles or when the tires start to show signs of balding. Figuring out when to replace the rubber that hits the ground on a rubber tracked crawler carrier isn't as simple.
Do You Need to Replace Your Rubber Tracks?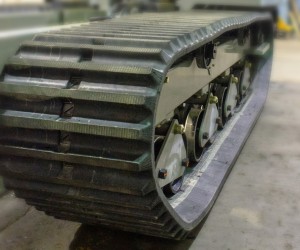 If your rubber tracks have logged more than 2,000 hours it's time to start planning for a replacement set. Depending on the terrain the machine is used on there might be visible tread wear. To eliminate unnecessary downtime and reduce track breakages in remote areas replace any tracks that show signs of wear. Worn tracks can also hinder the smooth operation that people have come to depend on from rubber track crawler carriers so be sure to plan ahead. If your rubber track appears to have a manufacturing defect contact the manufacturer to see if a replacement is covered under the warranty. Due to the nature of a job site not all damages will turn into claims but it is certainly worth investigating.
Purchasing Tips for New Rubber Tracks
Now that you've determined you need a set of new rubber tracks here are some helpful tips when shopping around for the best set of tracks money can buy.
Looking Beyond the Surface: High quality rubber tracks contain more than just rubber. Tracks with continuous steel core technology eliminate the need for joints inside the tracks. Steel cords are wound helically inside the track to form one piece. This process offer maximum durability and keeps tracks from stretching and derailing over time. By eliminating the jointing you eliminate 95% rubber track failure. Beware of manufactures that produce new rubber tracks with flat separate cables or with cable winding that are not helically wound as this will result in an inferior product.
Evaluate Rubber Materials: You might be surprised to know that a combination of natural and synthetic rubber produces the toughest rubber which helps provide wear and tear resistance in addition to a long service life. Look for new rubber tracks with a rubber compound of 60% natural rubber and 40% synthetic rubber. Beware of tracks that contain recycled material
Consider Tread Pattern: Not all tread patterns are treated equal. Look for a straight bar tread pattern since it is designed to increase traction, decrease tearing and provide even ground pressure in muddy or sandy soils. This is the most reliable tread pattern for a rubber track crawler carrier.
If you have determined you are in the market for new rubber tracks for your Terramac®, Morooka or IHI crawler carrier, Rig Source has inventory ready to ship. Call us today for a quote at 630-365-1649. You won't be disappointed; our friendly and dependable staff will save you money and get you the equipment you need to get the job done on time! In addition to parts and service Rig Source has a wide variety of Rubber track crawler carriers for rent or for sale. We look forward to working with you to make your business a success!