Rig Source, Inc., an industry leader in drill rig sales, service, rentals, and parts, is proud to announce the addition of an entirely new product line to the largest rig rental fleet in North America. Through an exclusive partnership with Versatran, Rig Source has received its first two Retriever transport trucks, and both are available immediately to rent on weekly or monthly terms.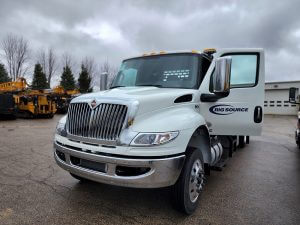 Designed from the ground up to transport site equipment, the Versatran series of trucks are all about flexibility, ability, and agility. With easy controls and the lowest loading deck in the industry, a machine can be loaded or unloaded in a fraction of the time it takes now. The No Idle System™ means that you don't have to idle the engine to operate the bed – reducing wear and tear on the motor and saving fuel. Additionally, with a 20-foot bed and a 6-ton legal limit, the 6T retriever doesn't require a CDL to operate. There are three different sizes available (6T, 15T, and 20T) to accommodate any type of machinery transport needs.
"The Versatran Retrievers are an absolute game changer – loading and unloading is easy and they offer everything from a non-CDL single axle truck to the 15T and 20T. They can carry just about anything you can throw at it", says Dave Thomas, Rental Manager at Rig Source Inc. He continues, "This helps us deploy rental rigs to customers more quickly, saving them time and money and keeping them drilling."
Jake Rockafellow, Rig Source's CEO states, "We're really glad to be partnering with Versatran. Their innovation, agility, and customer dedication align with the core of our values and the Retriever line of trucks are an absolute game-changer when it comes to transporting equipment. With over 100 years of combined drilling experience on staff, we knew that the simplicity and versatility these Retrievers offer was going to really resonate with the needs of our clients."
Rig Source has two Retriever 6T's in stock and immediately available for rental. Additional trucks are arriving in the next few months culminating in a full complement of 6T, 15T, and 20T trucks in our fleet by the end of June, 2022.
Want to see how easy it is to load up a rig on the Versatran? Check out this video: Loading a Geoprobe Rig onto the Versatran 6T
Looking for a brochure? Click here to download the Info Sheet.
For inquiries on rental availability or combination rig/truck rental options, contact Dave Thomas, Rig Source's Rental Manager at 630.365.1649.
====================
ABOUT RIG SOURCE INC.
Rig Source is the source for all things drilling. From rentals and parts to new and used machine sales, Rig Source's reputation has been built over years of impeccable customer service and a constant drive to keep our customers working. From their more than 30,000 sq. ft. facilities in Elburn to operating the largest rig rental fleet in North America, Rig Source prides itself on being "drillers helping drillers".
ABOUT VERSATRAN
Located in Watertown, Wisconsin, Versatran, a division of Metalcraft of Mayville, is a company dedicated to designing and manufacturing innovative transporters for industrial and construction equipment. Owing to their vast experience in the industry and strong customer relations, the company has managed to create the unique Retriever design, unrivaled for its safety, durability, efficiency, and eco-friendliness.